IMM25 is the optical imaging lens set, one of the IMM product ranges. IMM25 lens set provides 4 precisely cemented achromatic lenses in 3 different diameters. These lenses are made of high-grade optical glass by high-precision grinding and polising and coated with multi-layer anti-reflection films to ensure high-quality imaging. A fixed-focus or zoom imaging optical system can be obtained by the free combination of IMM25 lenses with the 3 different diameters. Some lens combinations with known angles have been given and customers can choose to use them directly.
The light spot projected by IMM25 imaging lens set is highly uniform, the image can be very clear and sharp and imaging distortion can be less than 1%. Chromatic aberration is effectively eliminated by IMM25. The high resolution (up to 2um pixel unit) of IMM25 lens set allows using HD pictures to make gobo and get crystal-clear projection effects.
Applied to:
Gobo projection, logo projection, image projection, profile lighting
Fields:
Shopping mall, museum, art gallery, exhibition, night scene, TV and film shooting, advertising shooting, etc.
Lens diameter: Φ44, Φ50, Φ64

Lens combination: two lenses, three lenses, four lenses

Iris (gobo content size): ≤ Φ25mm

LED: Luminous surface ≤ Φ11mm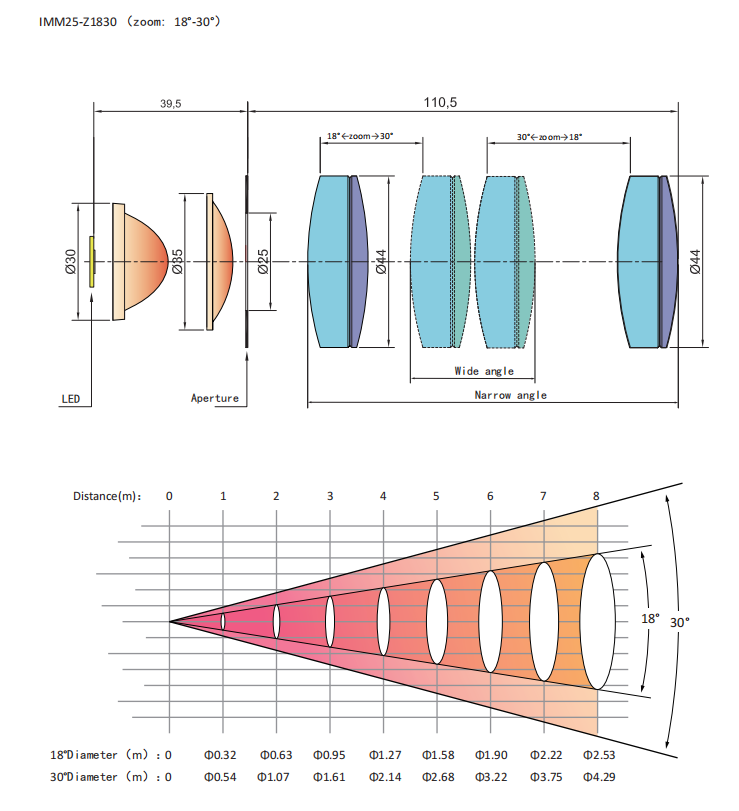 Real photos projected by IMM25: